Forget about the traditional favor goodies for your kid's birthday party. Next time, try to fill the party candy buffet with these customizable candies that kids will love to eat and take home with them. Here are 10 perfect candy themed party favors I've prepare for your kid's birthday party:
1. Personalized Kids Birthday Lollipop Favors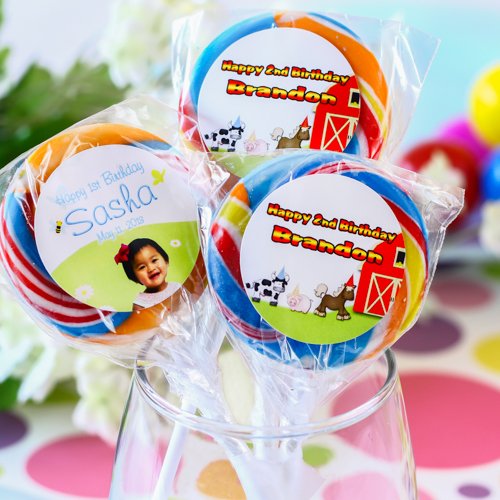 Your little birthday boy or girl and their little guests will love these personalized birthday lollipops! Imagine how excited they will be when they see their names on their favorite lollipops. You can also use these swirly rainbow lollipops to decorate the party table. Just stick them in a wine glass or a sand bucket, you have a cute centerpiece for the birthday party. After the party, let your little gusts take one with them home as a fun party favor.
2.Mini Classic Gumball Machines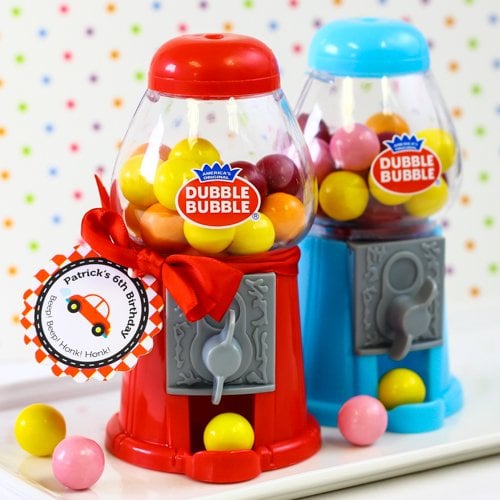 These mini classic gumball machines are coolest décor for your kid's birthday party. They are pre-filled with delicious Double Bubble gumballs. Kids will non-stop going back to twist more gumballs out of the machines at the party. Be sure to have enough gumballs ready to re-fill them. Otherwise, just hire a guard to watch these machines!
3. Personalized Birthday Mini Candy Jar Favor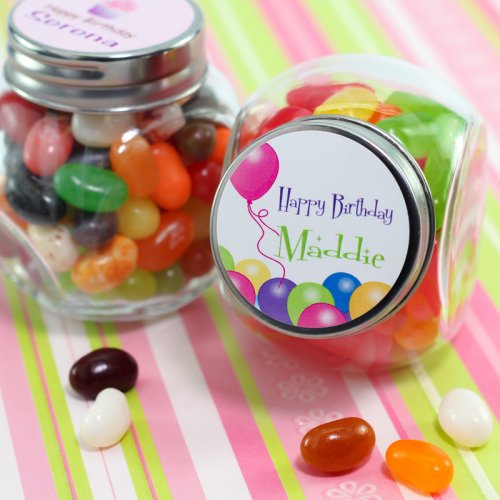 These personalized birthday mini candy jar favors are among one of our top picks for children's birthday party favors. Each candy jar comes in plenty of colorful designs. You can personalized each lid with your personal messages on it such as a name and a date. Choose your favorite candy flavors including M&Ms, Skittles, Mike and Ikes, Kisses, and Jelly Bellys.
4. Personalized Birthday Life Saver Candies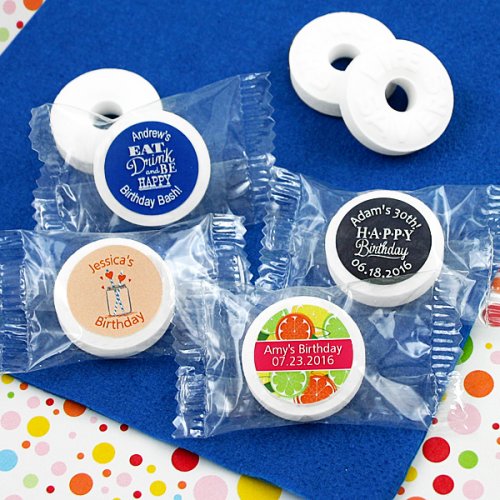 Bring your kid's birthday party to life with these personalized birthday Life Savers! Each candy is individually wrapped with a personalized label on top. Simply pick the design of the label and add your personal message on it. These personalized Life Savers come in peppermint or assorted fruit flavors. Stock the candy buffet at your kid's birthday party with these delightfully refreshing sweets!
5. Personalized Birthday Hershey's Kisses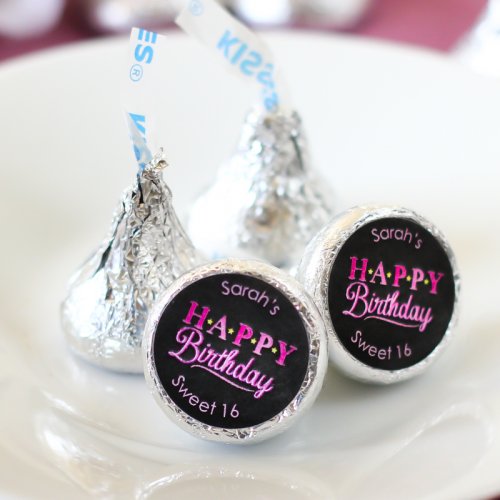 Everybody loves Hershey's chocolate! These sweet and delightful Birthday Hershey's Kisses are a sweet way to celebrate your loved one's birthday. Personalized each kisses with your special message from dozens of unique birthday designs of the labels.
6. Birthday Numbers Rice Krispy Treat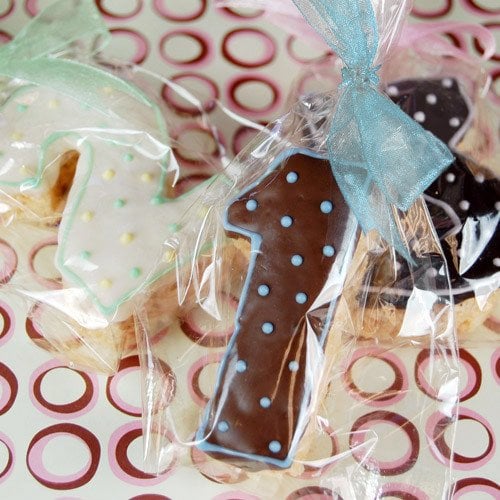 Is your little one turning one, two, or three this coming birthday? Specialize his or her birthday with these birthday numbers rice krispy treats at the birthday party. These cute, crispy sweets are made of puffed rice cereal and marshmallows topped with your choice of white, milk or dark chocolate. You can pick pink, blue, or yellow and green dots on each treats. Oh, and don't worry, they are available in any numbers for any ages of the birthday boy or girl!
7. Fun Candy Blox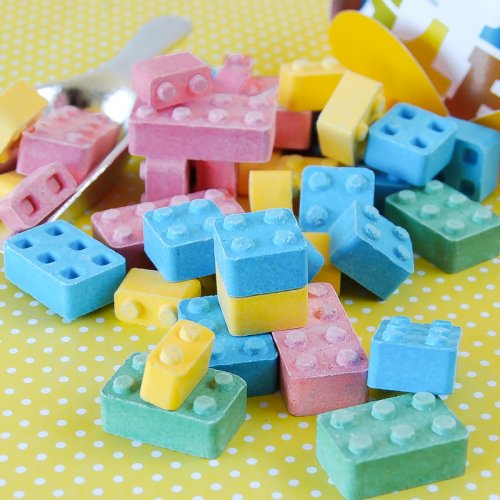 How cool it is to give your little birthday prince or princess the building blocks of sweet treat? These tasty candy blox are shaped like building blocks which will give your kid and his/her little friends hours of fun playing with them and enjoy the taste of them. Perfect candy favor for kid's birthday party!
8. Rock Candy on a Stick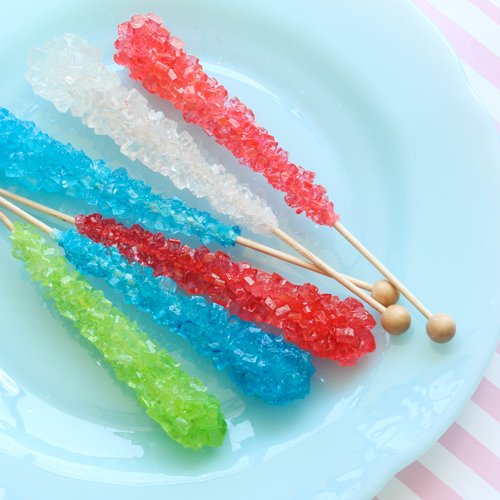 Your little one and his/her guests will love to grab one of these colorful rock candy on a sticks from the candy buffet at the birthday party. You can use them to decorate the party as well. Just stick tem in a tall vase or jar. Add some rock styles into your candy buffet or dessert bar for your little one's birthday party!
9. Personalized Birthday Mint Chocolate Candy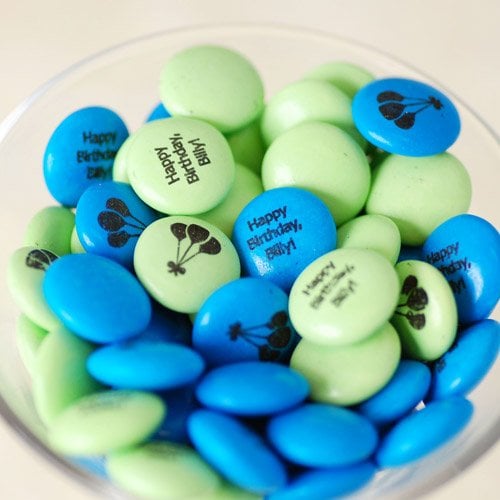 For birthday party of all ages, these personalized birthday mint chocolate candy birthday favors are made just for you. Choose your favorite candy colors including black, blue, dark blue, green, lavender and red. Add your own birthday-themed icon and photo to each candy on one side of the candy, and a personal message on the other side.
10. Personalized Birthday Hershey's Miniatures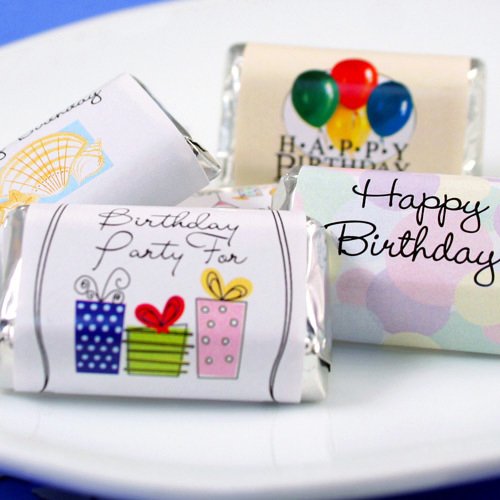 Another Hershey's chocolate get on top ten list of our favorite birthday favors. These personalized birthday Hershey's Miniatures feature dozens of fun designs for you to choose from. Each chocolate is individually wrapped in a customized wrapper and comes in an assortment of Milk Chocolate, Krackel (contains rice krispies), Special Dark (wrapped in gold foil) and Mr. Goodbar (contains peanuts).
---
Save